Justin Bartha's Best Movies
Justin Bartha has made 3 movies in which he starred in a leading role since his first movie 12 years ago called "The Rebound" (2009) in which he portrayed the character .
The highest grossing movie of Justin Bartha's career, "The Hangover Part II", sold nearly $254,464,305 at the box office in 2011.
Justin Bartha's Movies
The Hangover Part II
Movie Genre: Comedy
Running Time: 102 minutes
Directed by: Todd Phillips
Justin Bartha's Character Name: Doug
Box Office Sales: $254,464,305
Rated:
For pervasive language, strong sexual content including graphic nudity, drug use and brief violent images.
Synopsis: Phil, Stu, Alan and Doug travel to exotic Thailand for Stu's wedding. With the memory of Doug's nearly disastrous bachelor party in Las Vegas still fresh - or at least well-documented - Stu is taking no chances. He has opted for a safe, subdued, pre-wedding trip brunch, with pancakes, coffee... and no alcohol. However, things don't always go as planned. Two nights before the big day, at a fabulous resort in Thailand, Stu relents. One beer each. In sealed bottles. What could go wrong? What happens in Vegas may stay in Vegas, but what happens in Bangkok can't even be imagined.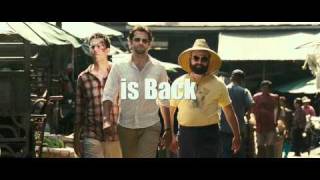 Dark Horse
Movie Genre: Drama
Running Time: 85 minutes
Directed by: Todd Solondz
Justin Bartha's Character Name: Richard
Box Office Sales: $166,228
Rated:
Synopsis: In his mid-30s, Abe clings to the trappings of his adolescence, including the extensive collection of toys and action figures adorning his boyhood bedroom. Still living with his parents Jackie and Phyllis, Abe works for his increasingly disappointed Dad and spends evenings ruthlessly trouncing his Mom at backgammon. His older brother Richard's success as a California doctor only feeds Abe's resentment and rage at his family over his failures. When Abe meets Miranda, whose personal and professional disasters have sent her scrambling back to the safety of her parents' suburban home, he sees what he thinks is a chance at true love. Abe throws himself into pursuing the overmedicated Miranda, convincing her to marry him after a whirlwind courtship. But, as the couple haltingly prepares to start a new life together, the film swerves into Abe's subconscious, where his crippling self-doubt and dark fears begin to undermine his nearly realized dream of a fuller life.
The Rebound
Movie Genre: Romantic Comedy
Justin Bartha's Character Name:
Rated:
For language, some sexual content and brief drug use.