Lou Taylor Pucci's Best Movies
Lou Taylor Pucci has made 4 movies in which he starred in a leading role since his first movie 12 years ago called "The Informers" (2009) in which he portrayed the character .
The highest grossing movie of Lou Taylor Pucci's career, "The Informers", sold nearly $315,000 at the box office in 2009.
Lou Taylor Pucci's Movies
The Informers
Movie Genre: Thriller/Suspense
Lou Taylor Pucci's Character Name:
Box Office Sales: $315,000
Rated:
For strong sexual content, nudity, drug use, pervasive language and some disturbing images.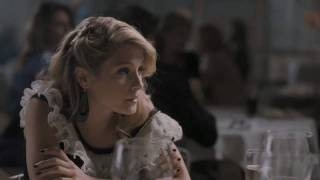 The Music Never Stopped
Movie Genre: Drama
Running Time: 105 minutes
Directed by: Jim Kohlberg
Lou Taylor Pucci's Character Name: Gabriel Sawyer
Box Office Sales: $258,538
Rated:
For thematic elements, some mild drug references, language and smoking.
Synopsis: The Music Never Stopped, based on the case study "The Last Hippie" by Dr. Oliver Sacks, M.D., chronicles the journey of a father and son adjusting to cerebral trauma and a lifetime of missed opportunities. Through the music that embodied the generation gap of the 1960s, the film weaves the heartwarming progress of Henry and Gabriel. With father and son on the opposite side of musical tastes as well as politics and the war in Vietnam, Gabriel disappears into the counterculture following a devastating confrontation with his father. The film opens nearly two decades later, when Henry and wife Helen are told their son has been found wandering the streets of New York City. Gabriel has a brain tumor that has caused extensive brain damage, and needs immediate surgery. When he recovers, he is in a near-catatonic state, his brain damaged to the point that it cannot recall or create any long-term memories. Effectively, Gabriel still thinks he is in 1968. After his operation, the extent of Gabriel's condition is made clear: the tumor damaged the part of the brain that creates new memories. For Gabriel, past, present, and future are indistinguishable, and he still lives in the era of Vietnam, acid tests, and psychedelic music. Determined not to let their son slip away from them again, Henry and wife Helen vow to connect with Gabriel, who is barely able to communicate effectively. Unhappy with Gabriel's progress, Henry researches brain injuries, which leads him to Dr. Dianne Daly. She is a music therapist who has made progress with victims of brain tumors using music. As Diane works more with Gabriel, she realizes that he seems to respond actively to the music of the psychedelic era - the Beatles, Bob Dylan, and particularly the Grateful Dead - which has a remarkable effect on Gabriel. He is able to have conversations and express himself, even though he is unaware the era of his music has long passed. Henry can't stand rock and roll - but he is determined to forge some memories and a new relationship with his son. While his own health fails, Henry begins his own pilgrimage through the bands of the sixties. As he learns the songs that animate his son's soul, he indeed begins to form a most unusual but emotionally vibrant bond with the child he thought he had lost.
The Legend of Hell's Gate: An American Conspiracy
Movie Genre: Western
Running Time: 108 minutes
Directed by: Tanner Beard
Lou Taylor Pucci's Character Name: Kid Called Kelly
Rated:
For some violence, brief language and partial nudity.
Synopsis: In 1870s Texas, a ruthless bounty hunter and an Irish desperado flee the law with a young criminal claiming to possess a treasure more valuable than gold. Crossing paths with some of the West's most notorious figures, the three outlaws fight for their lives in the pursuit of fame and fortune. Fueled by an ensemble cast and inspired by actual events, THE LEGEND OF HELL'S GATE blends legend and history into a Western spectacle that recounts a treacherous existence in post Civil War Texas.
The Story of Luke
Movie Genre: Comedy
Running Time: 95 minutes
Directed by: Alonso Mayo
Lou Taylor Pucci's Character Name: Luke
Rated:
Synopsis: A comedy about Luke, a young man with autism who embarks on a quest for a job and a girlfriend.